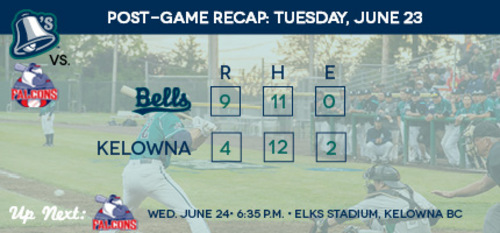 06/24/2015 8:33 AM
What a difference a day makes. The Bells last night committed seven errors and had to deal with pitching troubles. On Tuesday night in Kelowna, the Bells received a stand out performance from starter Andrew Kemmerer and stout defense that did not commit an error in a 9-4 win.
"Last night was a fluke," said Bells starter Andrew Kemmerer. "I had no worries with our defense coming into tonight's game and they played like they have all season."
Kemmerer's task was made easier before he even took the mound. The Bells for the second night in a row roughed up a Falcons starter. Elias Bedolla, who came in with impressive numbers on the season, could not even record an out before he was pulled by Falcons Manager Billy Clontz.
The Bells jumped all over Bedolla with a leadoff walk and three consecutive hits that plated two runs for an early 2-0 lead. The inning did not end there, as the next batter Walker Olis chopped a ball to Falcons' third basemen Kyle Plantier for what should have been the first out of the inning. Instead, Plantier dropped the ball and the bases were reloaded. Patrick McGrath followed on the next pitch with an RBI single. It would be a knock out-blow. Bedolla was removed, and the Bells would score twice more in the inning to take a 5-0 lead.
"It is way easier to pitch with a 5-0 lead like I had in the first inning," explained Kemmerer. "After that big inning I just thought, I have to put up zeros now and not allow anything."
"Kemmerer was big for us tonight," said assistant coach Mike Gange. "It was no secret that last night our bullpen was ragged for him; for him to give us six strong innings really allowed things to fall into place for us."
The night for Kemmerer was more of the same form his last time out on the mound, when he effectively pitched to contact against the Walla Walla Sweets. Through the first four innings Kemmerer had allowed just three Falcons to reach, all on base hits. Each hit was scattered into different innings preventing the Falcons from gathering any momentum. The only blemish of Kemmerer's outing was a solo homer by Justin Flores that turned it into a 9-2 game. He would finish the sixth inning and collect the win, his first of the season.
In the top of the fifth inning, the Bells added insurance runs after starting the inning with three consecutive hits. Aaron Stroosma collected his second hit of the night in the inning to join Jesse Kuet, and Patrick McGrath with a multi-hit game for the Bells.
"Our offense continued to swing it well tonight," said assistant coach Gange. "We set ourselves up for a series win, which makes tomorrow a big game for us."
The Bells will go for that series win tomorrow with first pitch slated for 6:35 p.m. Hunter Haworth will take the ball for the Bells. Erik Oas will be on the call at www.bellinghambells.com with a 6:20 pregame show.