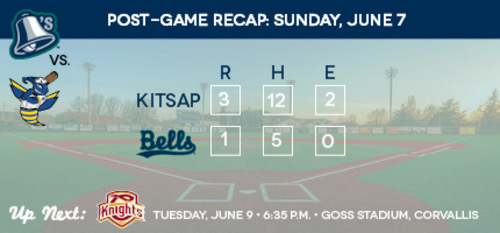 06/07/2015 5:54 PM
After an 11-2 offensive explosion a night ago, the Bells ran into a well-pitched game at Joe Martin Field on Sunday afternoon. The Kitsap BlueJackets used three pitchers to hold the Bells to just one run and claim a 3-1 win.
At the start of the game on Sunday the Bells had a chance to do something they had done just once before, start a season 3-0. The Bells handed the ball to right-hander Collin Maier. Maier navigated through the first two innings before he ran into some trouble with BlueJackets hitters in the top of the third.
The inning started with a Caylen Clardy leadoff line drive to left center field. Leftfielder Chase Scott raced over to make a diving catch but the ball went in and out of his glove for a leadoff double. The double was followed by singles from BlueJackets Justin Beck and Brett Bautista, scoring Alex Junior and Clardy to put the BlueJackets ahead 2-0.
The inning ended with a fantastic play by Bells rightfielder Walker Olis, who turned a diving catch in shallow right into a double play with an alert throw to first, doubling off BlueJacket baserunner Justin Beck.
Bluejackets starting pitcher Jon Oltman had the Bells off balance at the plate all afternoon. A contact pitcher, Oltman went five innings without collecting a strikeout but did not allow a Bell to reach third base.
The lone run for the Bells came when Dustin Breshears turned in an excellent at bat against Bluejacket reliever Jake Brewer. Breshears made Brewer throw nine pitches, and on the ninth pitch drove a ball over the fence in left giving him two home runs in as many games. The homer made it a 3-1 game, but the Bells came up short in mounting a rally against BlueJackets reliever Nate Simmons.
The loss for the Bells is their first of the season, giving them a record of 2-1, while Kitsap got into the win column and are now 1-2.
The Bells will take Monday off before beginning a six game road trip through southern Oregon, stopping first in Corvallis to take on the Knights for a rematch of last year's West Coast League Championship series. The road trip will conclude in Klamath Falls for a three game set against the Klamath Falls Gems.
All three of the games in Corvallis will be available streaming live on www.bellinghambells.com with Erik Oas on the call.