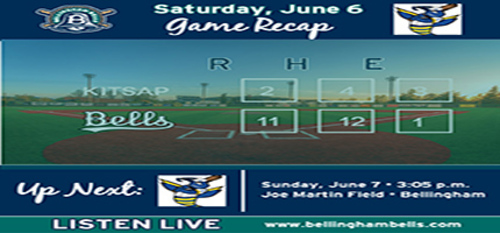 06/06/2015 9:44 PM
It was another Bells win Saturday night at Joe Martin Field, but in a far less competitive game. The Bells scored early and often to knock off the Bluejackets, 11-2.
From the first inning on, the Bells controlled the game thanks to a two-run home run by Chase Scott. "Last night I felt like the game was moving too fast for me, but tonight I was able to slow it down and have a good game," Scott said. When the game was over, Scott had gone two for two with a home run, double, four RBIs, and two walks.
Scott was not the only one to join the Bells hit parade. Walker Olis had a four hit night that included a mammoth home run in the bottom of the eighth inning that added to Bells lead making it 11-2. Another home run that was walloped came off the bat of Dustin Breashers who slugged a three run homer in the bottom of the second.
The Bells offense was so good that they failed to score in just one inning, the third.
In games that see so much offense it is easy for pitchers to give runs back, but starter Reagan Todd worked through four plus innings and allowed just one earned run. "We had our pitchers stay in the game, and give us what we feel like was a complete win," assistant coach Mike Gange said.
Todd was followed by Arizona State teammate Grant Schneider in the fourth inning. Schneider came in with runners at second and third and nobody out, but navigated the jam with only giving up one run. Schneider would get the win in relief and leave a rousing standing ovation by the Bells faithful.
When Schneider departed in the eigth inning, local product Brice Longanecker, a Sehome High School graduate and Morehead State University junior, came and took the Bells the rest of the way. Longanecker went one and two thirds of an inning to close the door while tallying three strikeouts.
Tomorrow the Bells go for the sweep with a special 3:05 start time. Erik Oas will be on the call on 930AM KBAI and online at 930kbai.com.