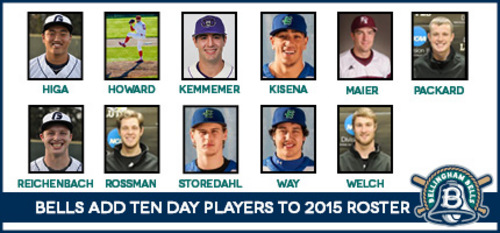 05/22/2015 11:32 AM
The Bellingham Bells have completed the 2015 roster with the addition of 11 ten-day contract players. The ten-day player class consists of eight pitchers, a catcher and two infielders.
"We have had our eyes on these particular players for a while," said Bells pitching coach and recruiting coordinator Jim Clem. "They are all quality players and we believe each one of them could make the difference in our early season success."
Because players have differing academic schedules and arrive in Bellingham at different times in June, it is customary for teams throughout the West Coast League to sign groups of temporary players to fill out the roster in the early part of the season. The Bells retain the option to keep any of these players after their ten-day contracts expire.
"A couple of good examples of ten-day players making big contributions to our team early on and then being offered a full-time contract are Aaron Sandefur and Nate Anderson," Clem said. "Both are examples of someone who made the most of their opportunity, turning a ten-day roster spot into a full-time one."
"Regardless of whether or not the ten-day players make the roster full-time, while they are here, they are a very important part of our team," Clem said. "I can't begin to tell you how excited we are about this group of players."
The Ten Day Players Include:
Pitchers
· Nate Higa, RHP, George Fox University
· Jacob Howard, RHP, Skagit Valley College
· Andrew Kemmemer, RHP, Central Arkansas
· Alec Kisena, RHP, Edmonds Community College
· Collin Maier, RHP, University of Puget Sound
· Kyle Rossman, RHP, Pacific Lutheran University
· Riley Storedahl, RHP, Edmonds Community College
· Brian Way, RHP, Edmonds Community College
Catchers
· Andrew Reichenbach, George Fox University
Infielders
· Landon Packard, Pacific Lutheran University
· Ben Welch, Pacific Lutheran University