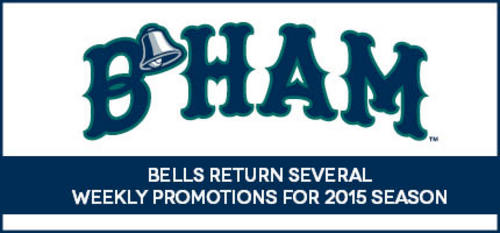 05/13/2015 5:25 AM
The Bellingham Bells are excited to announce two new weekly promotions for the upcoming season. The promotions, which will take place at all Thursday and Friday home games, will join a popular lineup of returning weekday promotions, including Industrial Credit Union Family Fun Day Sunday, $2 Tuesday and Salute to Armed Forces Wednesday.
On Thursdays, the Bells will add a "Throwback Thursday" promotion. Each Thursday, the Bells will turn back the clock and celebrate the rich baseball history in our region as we honor and recognize former teams, players and coaches who have contributed to the long tradition of baseball in Whatcom and Skagit Counties.
"Many players, teams, and coaches have paved the way for the Bells to be successful in Bellingham by building a community that is enthusiastic and passionate about the game of baseball," Bells general manager Nick Caples said. "We are excited to be able to honor and show tribute to them with this fun promotion."
For all Friday games during the 2015 season, the Bells will celebrate "Championship Friday," honoring champions who have achieved excellence in a variety of different athletics and activities throughout our community.
"Both promotions will be a fun way to honor individuals within our community," Caples said. "We are excited to be able to add two more weekly promotions to the lineup so that fans will continue to find a fun and unique experience at the ballpark, no matter what night of the week they attend a game."
For more information about the 2015 Bellingham Bells season and to stay updated on the 2015 promotional schedule, please visit www.bellinghambells.com.