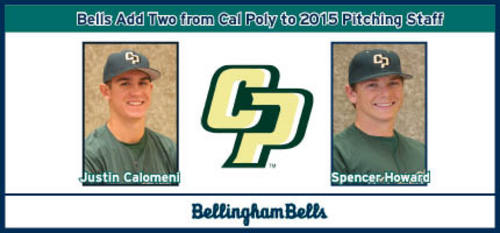 04/27/2015 8:03 AM
The Bellingham Bells are excited to announce two additions to the 2015 pitching staff. Justin Calomeni and Spencer Howard, both right-handed pitchers for Cal Poly, will join the team in summer 2015.
Calomeni, a right-handed pitcher from San Jose, Calif., is a sophomore for the Mustangs. As Cal Poly's Saturday starter in 2014, he compiled an 8-2 record and 3.68 ERA in 73.3 inning pitched. No stranger to the West Coast League, Calomeni spent summer 2014 with the Corvallis Knights in the WCL's south division, where he struck out 37 in 45.6 innings.
"Justin Calomeni is a big addition to our pitching staff and one that our fans will really like," said Bells general manager Nick Caples. "He strikes out a lot of batters to go with good command, making him very efficient on the mound."
A freshman from Templeton, Calif., Howard is also a right-handed pitcher at Cal Poly. As a senior at Templeton High School, he hit .306 and compiled a 7-3 record with a 2.20 ERA. Howard was named the 2014 Los Padres League MVP in addition to being named North San Luis Obispo County Player of the Year.
"Spencer Howard will join us as another strikeout pitcher," Caples said. "He struck out 88 batters in 66 innings during his senior season in high school, and will look to continue that kind of dominance in a Bells uniform this summer."