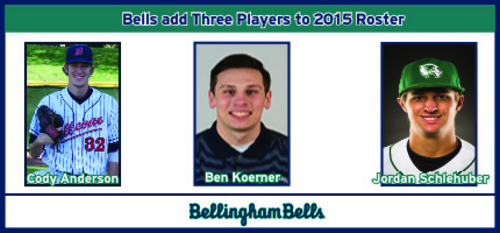 04/06/2015 8:40 AM
The Bells have added three players to the 2015 roster with the additions of pitcher Cody Anderson, catcher Ben Koerner and infielder Jordan Schlehuber, the team announced today.
Anderson, a freshman left-handed pitcher for Bellevue College, is originally from Marysville, Wash. As a senior at Marysville-Pilchuck High School in 2014, Anderson was named to the first team All-WesCo 3A North Team and was also named to the 2014 Washington All-State Baseball team.
"Cody is having an exceptional spring," said Bells General Manager Nick Caples. "In 23 innings pitched, he has allowed just one earned run, while striking out 18 and walking just 2 batters. With control like that, he is sure to be effective this summer."
A native of Seattle, Wash., Koerner is a freshman catcher for Concordia University in Portland, Ore. A three-time letter winner at Seattle's Garfield High School, Koerner was named team MVP during his junior and senior seasons.
"Ben comes to us with the utmost regard to his work ethic and attitude," said Caples. "He is a very talented catcher and tireless worker behind the plate. His strong leadership ability will push our pitching staff to their fullest potential."
Schlehuber, a junior at Utah Valley University, is an infielder originally from Aurora, Colo. Schlehuber transferred to UVU after two seasons at Iowa Western Community College. In 2014, he helped lead the Iowa Western Reivers to the NJCAA JUCO World Series Championship, and was named first-team All-Region.
"Jordan Schlehuber joins us with a great deal of experience under his belt," Caples said. "He has started every game for Utah Valley this spring, and will be looked to provide some veteran leadership within the clubhouse as he prepares for his senior year."