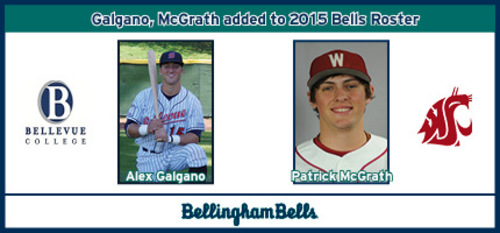 03/30/2015 7:20 AM
The Bellingham Bells are excited to announce the addition of Bellevue College catcher Alex Galgano and Washington State University infielder Patrick McGrath to the 2015 roster.
Galgano, a sophomore catcher for the Bulldogs, is a graduate of Archbishop Murphy High School in Everett, Wash. A three year letter-winner for Archbishop Murphy, he posted a .420 batting average as a senior in 2014, helping to lead the Wildcats to the WIAA 2A State Championship. Galgano was also named to the All-League First Team and All-State Second Team.
"We are very pleased to have another exceptional player from Bellevue College coming to the Bells this summer," Bells pitching coach and recruiting coordinator Jim Clem said. "Alex is a very good offensive player, and he will provide for us much needed depth at the catcher position. His versatility will also provide us with depth in the outfield. We know that Alex will be a big help to our team!"
A junior infielder, McGrath is a native of Woodinville, Wash. During his sophomore year in 2014, McGrath batted .229 for the Cougars, driving in 11 runs with five doubles and a home run. He led the Cougars in number of sacrifice bunts (7) and doubles (5) during the 2014 season.
"Patrick is an outstanding defensive corner infielder, and we are excited to have him coming to Bellingham this summer," Clem said. "Offensively, we expect he will be a big help to us in the middle of our order. His experience and leadership abilities are qualities which will help us on and off the field—it will be great to have a player of Patrick's caliber on our team."