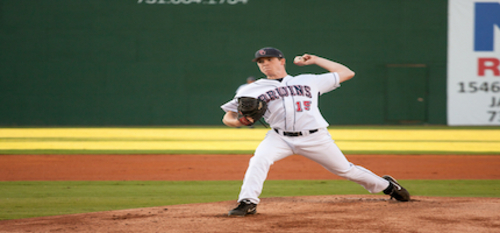 03/25/2015 10:18 AM
After two complete games, one being a shutout, 2014 Bells pitcher Dan Ludwig was honored on Monday with conference player of the week honors from the Ohio Valley Conference.
Ludwig, a left-handed pitcher for Belmont University, went the distance in both of his last two outings. On Friday, against Morehead State, he threw a complete game shutout, allowing only three hits. Ludwig is currently second in the OVC in both strikeouts and innings pitched.
As a Bell in 2014, Ludwig threw 36.2 innings for the Bells, ending the season with a 2.20 ERA. He was also named to the 2014 West Coast League All Star Team.
To read more about Ludwig's recent honors from the Ohio Valley Conference, click here.