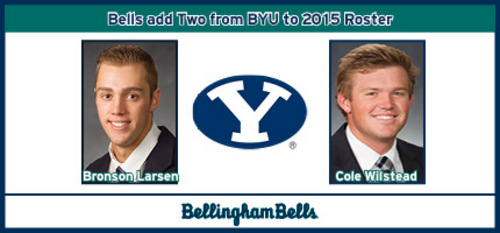 03/23/2015 8:16 AM
The Bellingham Bells are excited to announce that Brigham Young University's Bronson Larsen and Cole Wilstead will join the Bells during summer 2015.
"Bronson and Cole are two very talented and physical players coming to Bellingham from BYU," Bells manager Jeff James said. "We are thrilled to have them and thankful to be continuing our relationship with the BYU program."
Larsen, a sophomore from Fruit Heights, Utah, is a catcher for the Cougars. In 2014, he started 15 games, driving in six runs with five doubles and a home run. He also maintained a near perfect fielding percentage of .956.
"We look for Bronson to be a front-line starter behind the plate for us," James said. "He has a strong defensive skill set and power on the offensive side."
Wilstead, a native of Washington, Utah, is a sophomore infielder. In 2012, as a freshman at BYU, he hit .231 for the Cougars, appearing in 20 games. After spending the 2013 and 2014 seasons away on a mission trip to the Philippines, Wilstead returns to the Cougars' lineup for the 2015 season.
"Cole will help provide us some power from the left side," James said. "He will come in slated as our first baseman."