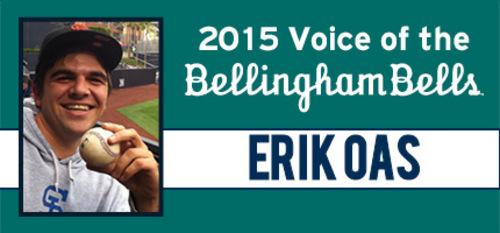 03/17/2015 9:26 AM
The Bellingham Bells have recently hired Erik Oas to be the voice of the Bells for the 2015 season. Oas will give the play-by-play commentary for all 57 games during the summer.
"We are really excited to have Erik on board," said Bells general manager Nick Caples. "Erik has an undeniable passion for baseball, and that always comes across in his broadcasts."
"In addition to his talent in the broadcast booth, Erik brings a broad skill set that will help allow him to contribute to a number of different projects within our media relations department," Caples added. "Our coaches, players, and community members will really enjoy working alongside Erik this summer."
A 2013 graduate of San Jose State University, Oas comes with a wealth of play-by-play experience. As a broadcaster for SJSU's college radio station KSJS, Oas provided play-by-play commentary for several different sports for the Spartans, including baseball, football, basketball, volleyball, and hockey.
Oas is no stranger to the West Coast League, having most recently served as the broadcaster and media relations director for the Klamath Falls Gems, a West Coast League team in the South Division. While in Klamath Falls, Oas called all home and away games for the Gems. He has also called games in the California Winter League, an instructional showcase league for current professional and free agent baseball players.
Oas is looking forward to opening day and the start of the 2015 season. "This is a great opportunity to be part of one of the best franchises in the league," said Oas. "As the defending champions, the Bells will be the team to watch this season."