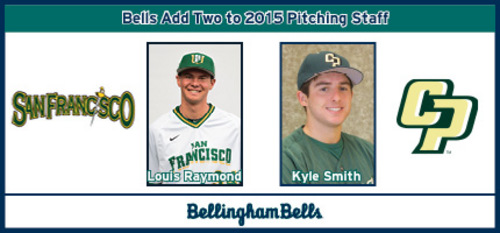 03/09/2015 9:27 AM
Two pitchers have been added to the Bellingham Bells pitching staff for summer 2015, the team announced today. San Francisco's Louis Raymond and Cal Poly's Kyle Smith will both join the Bells during summer 2015.
Raymond, a freshman right-hander for the Dons, is a native of Laguna Niguel, Calif. At Dana Hills High School in 2014, Raymond threw 84.2 innings with a 2.04 ERA as he led the Dolphins to a 26-8 record and the Seaview League championship. At the end of the 2014 season, Raymond was named the Seaview League MVP.
"As a RHP, Louis Raymond is known for being a strike thrower," Bells pitching coach Jim Clem said. "He also has an exceptional fastball and change-up. His success in high school, and now with USF, projects well for him to be a pitcher the Bells can count on in 2015. We are truly looking forward to watching Louis pitch for the Bells in 2015!"
Smith, a freshman left-hander at Cal Poly, is from Torrance, Calif. In his senior season at Torrance High School in 2014, Smith compiled a 13-1 record with a 0.47 ERA and was named CIF-Southern Section Division IV's Most Valuable Player. In 15 appearances in 2014, Smith notched 10 complete games and struck out 115 batters.
"Kyle Smith is an outstanding left-handed pitcher," Clem said. "Yes, we are excited to have him on our pitching staff, as this kid can really pitch! Kyle had a tremendous high school career and is currently pitching very well for Cal Poly this spring. I am very confident that Kyle will be a big help to the Bells this summer."