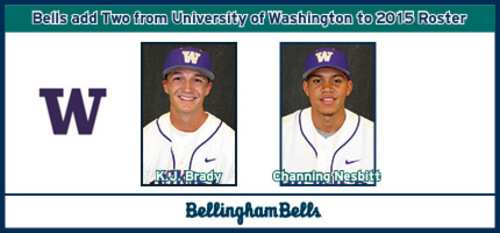 03/02/2015 10:49 AM
The Bellingham Bells will add two Washington Huskies to the 2015 roster, the team announced today. Outfielder K.J. Brady and left-handed pitcher Channing Nesbitt will join the Bells during summer 2015.
Brady, a native of Everett, Wash., is a freshman for the Huskies. As a senior at Cascade High School in 2014, Brady hit .418 with a .500 on base percentage and three home runs. He was named Wesco Conference MVP in 2014, and was also named to the all-conference team in 2012, 2013 & 2014.
"We are very excited to have a player like K.J. Brady be a part of our 2015 club," said Bells assistant coach Mike Gange. "He is an all-around athlete and will be viewed as the spark plug in our lineup due to his speed and ability to handle the bat."
Originally from Oakland, Calif., Nesbitt is also a freshman for the Huskies. A graduate of Bishop O'Dowd High School, Nesbitt had an impressive prep career that included three consecutive years of being named to the All-West Alameda Foothills team, as well as being named the conference MVP pitcher in 2013.
"Channing is an extraordinary athlete and has the ability to throw three quality pitches for strikes," said Gange. "He is a savvy, mature left-hander that will be a valuable piece to the back end of our bullpen."