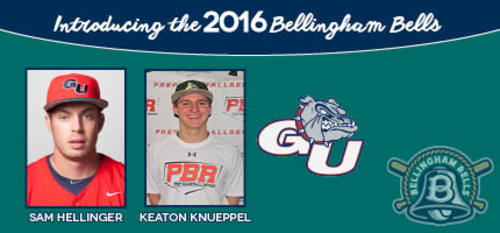 02/23/2015 9:06 AM
The Bellingham Bells will add two Gonzaga University players to the 2015 roster, the team announced today. Pitcher Justin Blatner and catcher Joey Harris will join returning Bell Dustin Breshears on the Bells roster for summer 2015.
"We are very excited to have two talented players join us from Gonzaga in Joey and Justin," manager Jeff James said. "The relationship we have with Gonzaga is an important one and we are pleased to be continuing it in 2015 with three Bulldogs on the roster."
Blatner, a freshman from Spokane, Wash., is a left-handed pitcher for the Bulldogs. A graduate of Gonzaga Prep High, Blatner was named the Greater Spokane League MVP in 2013 after posting a .412 batting average and a 0.22 ERA. During his senior year, he was the top ranked prospect in the state of Washington according to Baseball Northwest.
"Justin is a big, strong left hander," James said. "We expect him to be a big part of our pitching staff."
A catcher from Sacramento, Calif., Harris is a junior at Gonzaga. As a sophomore for the Bulldogs in 2014, Harris saw action in 35 games and maintained a fielding percentage of .986 with only three errors on the season. Harris also had 18 hits and 12 RBI on the season.
"Joey is an experienced and well-known catcher who has a great deal of talent," James said. "We look to him to be a frontline starter to help manage our staff.