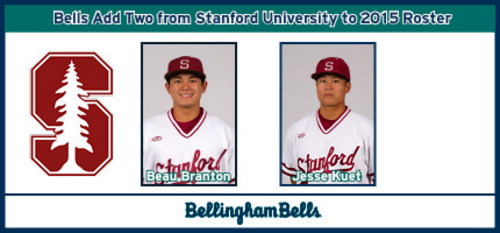 02/13/2015 12:14 PM
The Bells will add two Stanford University infielders to the 2015 roster, the team announced today. Infielders Beau Branton and Jesse Kuet will join returning Bells pitcher Andrew Summerville on the Bells roster for summer 2015.
Branton, a native of Honolulu, Hawaii, is a freshman infielder for the Cardinal. While at Punahou High School, Branton was a three-time all-conference selection and was named to the All-State team twice. In 2014, as a senior at Punahou, he was awarded the Interscholastic League of Honolulu regular season batting title after finishing the season with a .460 average.
"Beau adds a lot of versatility to our infield as he is capable of playing second base, third base, and shortstop," said Bells general manager Nick Caples. "He is a very well rounded player on the field, and we have received nothing but positive feedback about what an outstanding young man he is off the field."
A freshman from Huntington Beach, Calif., Kuet is also an infielder for the Cardinal. At Huntington Beach High School, he was a four-year letterman and starter at the shortstop position. As a senior in 2014, he led Huntington Beach to the 2014 Sunset League championship and was named to the 2014 Orange County South All-Star team.
"In addition to his talents on the field, Jesse comes to Bellingham with a strong reputation as a leader and a winner," Caples said. "As a two year captain of a nationally ranked high school program, we know Jesse will be a great addition to our clubhouse. He is a very talented infielder that will contribute at the plate and in the field."