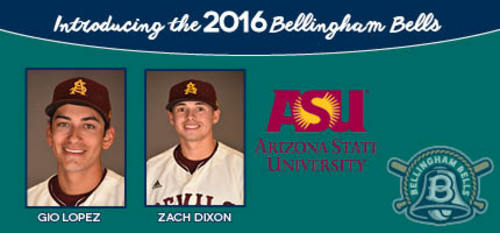 02/09/2015 10:28 AM
The Bellingham Bells are excited to announce the addition of two Arizona State University players to the 2015 roster, as Grant Schneider and Reagan Todd will join the Bells pitching staff.
"Arizona State has sent the Bells a lot of great players in the past," pitching coach and recruiting coordinator Jim Clem said. "This year's recruits seem to be very special players as well. We are very pleased to continue our relationship with ASU and we look forward to having Grant and Reagan on the roster for the 2015 season!"
Schneider, a freshman right-handed pitcher and a native of Austin, Texas, had an outstanding career at Lake Travis High School. While at Lake Travis, he received various honors, including being named to the 2014 Texas All-Region First Team.
"Grant Schneider is a big RHP who has an exceptional fastball and also has other pitches to go with it," Clem said. "He is described as being very coachable and a great teammate. With his talent and character, we expect Grant to be a big help to the Bells pitching staff!"
Todd, a graduate of Regis Jesuit High School in Centennial, Colo., is a freshman left-handed pitcher for the Sun Devils. During his prep career, he was named to the All-Conference and All-City teams twice, in addition to being named to the 2014 Second Team Perfect Game All-American team.
"Reagan Todd is a big LHP that is known for being able to throw multiple pitches for strikes," Clem said. "As a big recruit for ASU, Reagan is described as being a terrific kid, who has the ability to be a special player. We are very excited to have Reagan join the Bells!