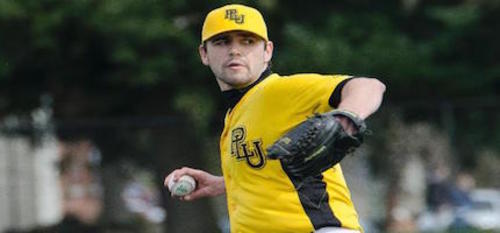 02/04/2015 9:53 AM
2014 Bells pitcher and current Pacific Lutheran University closer A.J. Konopaski was recently named to D3baseball.com's preseason All-America First Team for NCAA Division III baseball.
Konopaski, a senior closer, is the first player for the Lutes to ever make a First-Team All-American team and the lone reliever on the first team.
In 2014, he racked up 13 saves with a 1.10 earned run average and a 2-0 record, the best record of any reliever in PLU Baseball history. His 13 saves led all of NCAA Division 3.
As a Bell in 2014, Konopaski pitched 3 innings of relief for the Bells during an early season 10-day contract. In 3 innings of work, he was credited with one save and four strikeouts.
"This is a terrific honor for A.J. to receive and it couldn't happen to a more deserving person," Bells pitching coach and recruiting coordinator Jim Clem said. "With the Bells, his talent and leadership helped get us off to a fast start. He was very much so a part of creating the great team chemistry that we had. We all wish him, and his PLU team, the best of luck this coming season."
To read the full story about Konopaski's selection to the preseason All-American team, click here.