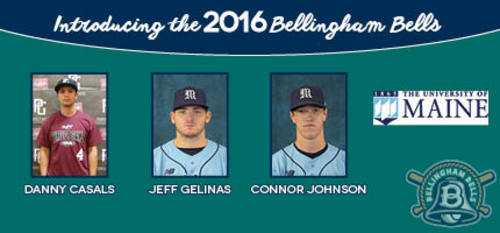 01/30/2015 11:00 AM
Two players from the University of Maine will join returning Maine outfielder Lou Della Fera on the 2015 Bellingham Bells roster, the team announced today.
Justin Courtney and Jonah Normandeau, both pitchers from the University of Maine, will join the pitching staff for summer 2015.
"We are thankful to continue our relationship with Maine by adding two pitchers in Jonah and Justin," Bells manager Jeff James said. "They come highly regarded and we expect them to be big contributors for us on the mound this summer."
Courtney, a right-handed pitcher from Bangor, Maine, is a freshman for the Black Bears. At Bangor High School, he led the Rams to the 2014 Class A State Championship with a 7-1 record and a 1.20 ERA with 77 strikeouts. He was named to the 2014 Maine All-State Baseball Team.
A freshman from Cumberland, Maine, Normandeau is also a right-handed pitcher. While at Greely High School, Normandeau's career varsity record was 14-1 with a 0.82 ERA. During his time at Greely, Normandeau threw one perfect game and two no-hitters. In addition to being named all-conference for three consecutive seasons, he was also named the Western Maine Conference Player of the Year in 2013.
"Over the years, Maine players have created a great reputation in the Bells' organization," James said. "We are thrilled to have these two young players join us."