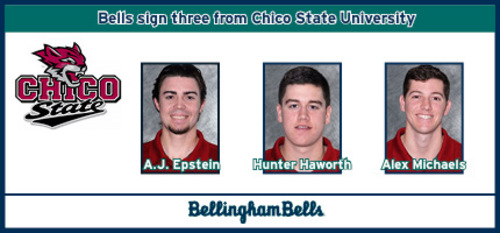 01/27/2015 11:40 AM
The Bellingham Bells are pleased to announce the addition of three players from Chico State University to the 2015 roster. Pitchers A.J. Epstein and Hunter Haworth will join the Bells pitching staff, accompanied by outfielder Alex Michaels.
"The Chico State players that we have had on our roster the past couple of years have been outstanding Bells," pitching coach and recruiting coordinator Jim Clem said. "We are pleased to announce that we have three more exceptional players from Chico State coming to Bellingham in 2015!"
Epstein, a left-handed pitcher from Las Vegas, Nev., is a junior at Chico State. A transfer from Barstow College, Epstein made 14 appearances for Barstow in 2014. In 80 innings pitched, Epstein maintained a 2.81 ERA with 48 strikeouts.
"A.J. Epstein has had a lot of success as a left-handed pitcher and can be used as either a starter or a reliever," Clem said. "A.J. has a firm fastball and an arsenal of other pitches to compliment it. He is known for being a hard-worker, a pitcher with outstanding control with a very competitive nature. We are very excited to have A.J. on our team for the coming summer!"
Haworth, a freshman from Hollister, Calif., is a right-handed pitcher. A standout at San Benito High School, Haworth was named to the All Central Coast First-Team after the 2014 season. During the season, he struck out 64 en route to a 10-0 season with a 0.44 ERA.
"Hunter is a true freshman with a very high ceiling," Clem said. "His fastball and slider are exceptional, but he also has a curveball and change-up to compliment them. He is known for being a fast learner and a hard worker. There is no question that Hunter will be a great addition to the Bells staff this summer!"
Michaels, an outfielder from Stockton, Calif., will be a junior for the Wildcats. After spending the 2014 season with Cal Poly, this spring will Michaels' first season with Chico State. In 2014 for Cal Poly, Michaels had a perfect fielding percentage and no errors in the field.
"Alex is a very talented outfielder who will undoubtedly be a very exciting player for Bells fans to watch," Clem said. "He is a special offensive talent and an accomplished hitter who hits for both average and power. Alex has made a name for himself by having a strong work ethic and for being a good teammate. His experience, as a junior, will be a big asset to our team and we look forward to having Alex in a Bells uniform."