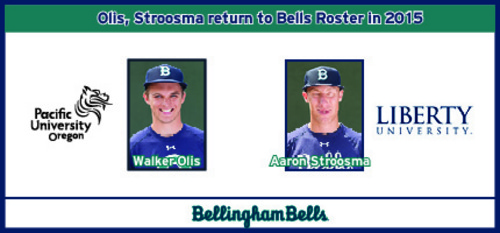 01/19/2015 3:30 PM
In a move that adds significant depth and experience to the outfield for summer 2015, the Bellingham Bells have announced the return of two outfielders, as Pacific University's Walker Olis and Liberty University's Aaron Stroosma will return to the outfield for the Bells in 2015.
"We are very excited to bring back two talented outfielders to Bellingham this summer," Bells manager Jeff James said. "They are both very athletic and talented, and we will look for their athleticism, along with their maturity, to be big factors in the Bells outfield."
Olis, a native of Burlington, Wash., is a junior outfielder at Pacific University. In 2014 for the Bells, Olis hit .282 with 50 hits and 3 home runs.
"Walker had a great summer playing solid right field while showing power and speed on the offensive side," James said. "His experience from last summer, along with his speed, will be a huge asset for our team this summer."
Stroosma played 5 games with the Bells in 2014 as part of a 10-day contract. In 21 at-bats with the Bells, Stroosma hit .429 with 9 hits and 5 RBI. While at Bellevue College in 2014, Stroosma had 37 hits, 3 home runs and 26 RBI.
"Aaron is a tremendous athlete with power and speed," James said. "We are excited to have the opportunity to bring him back and know that he will be able to contribute to our team in a variety of ways."