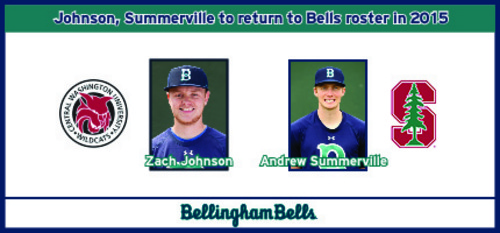 01/12/2015 8:55 AM
Two pitchers from the 2014 Bellingham Bells roster will return for the 2015 season, the team announced today. The Bells will return two left-handers to the pitching staff in Central Washington University's Zach Johnson and Stanford University's Andrew Summerville.
"As we head into the 2015 season, we will look to both Zach and Andrew to provide leadership on our pitching staff, in our clubhouse, and on the field," Bells pitching coach and recruiting coordinator Jim Clem said. "They know what to expect coming in and they appreciate all that the Bells have to offer them. With another college season under their belts, I expect Zach and Andrew will be even further along in their development and am certain they will both do all they can to help the Bells in 2015!"
Both Johnson and Summerville were part of a 2014 Bells pitching staff that maintained a 2.68 ERA en route to winning the 2014 West Coast League championship.
"It is exciting to know that two key pieces of last year's pitching staff will return for the Bells 2015 campaign," Clem said. "Without question, Zach Johnson and Andrew Summerville had storybook seasons last year. Seldom do players ever experience a year the likes of which both Zach and Andrew had in 2014."
Johnson, a junior from Kirkland, Wash., was a West Coast League All-Star selection for the Bells in 2014. He ended the 2014 West Coast League regular season with a 1.92 ERA in 42.0 innings pitched and 35 strikeouts. As a sophomore at Edmonds Community College in 2014, Johnson helped lead the Tritons to the NWAACC Championship in 2014, ending the season with a 1.13 ERA in 79 innings pitched. He was also named to the NWAACC All Tournament Team.
"As a left-handed starting pitcher, I would define Zach as highly competitive and very crafty," Clem said. "Zach arguably has the best pick-off move I have ever seen! His uncanny ability to command three quality pitches and also shutdown the opposition's running game makes it very difficult for teams to score off of Zach."
Summerville, currently in his freshman year at Stanford University, is originally from Seattle, Wash., where he attended the Lakeside School. Summerville led the Lions to their first state tournament appearance in 2014 and was named the WIAA 3A Player of the Year. Additionally, he was named the 2014 Washington State Baseball Coaches Association Player of the Year. In June 2014, the Seattle Mariners drafted Summerville in the 34th round of the Major League Baseball draft.
"Andrew's accomplishments were nothing short of spectacular in 2014! Truly an amazing year for him," Clem said. "As the only high school player on our team in 2014, we all enjoyed watching Andrew mature before our very eyes. Part of Andrew's success is directly related to his exceptional dedication and work ethic. Andrew played a very significant role out of the bullpen for the Bells last summer and was instrumental in helping the Bells secure their first West Coast League title."