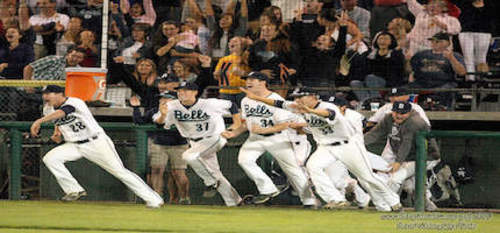 01/08/2015 10:37 AM
The Bells, who won their first West Coast League championship in August 2014 in front of 2,800 fans, are pleased to announce that their 2014 WCL Championship Victory was named the #10 Sports Moment in Whatcom County by the Bellingham Herald.
From the Bellingham Herald's Dave Rasbach:
"The Bellingham Bells celebrated their first West Coast League championship since the league's inception in 2005, as they claimed a series-clinching 3-2 win over defending champion Corvallis. The Bells finished the season 41-18, marking only the fourth time in the history of the college summer league that a team finished with more than 40 wins. After winning the West Division title with the league's best record, the Bells swept Yakima Valley in two games to advance to the championship series. They then fell to Corvallis in the championship series opener, but rebounded to win Game 2 4-1, setting up the clincher in Game 3. Reliever Moises Cera got the win, as he came on with Corvallis threatening to add to the two runs they pushed across in the fourth inning. Shortstop Chris Baker started a three-run rally for Bellingham in the bottom half of the fourth, and that proved to be all the Bells would need."
To read the rest of this article and the full list of the Top Ten Sports Moments in Whatcom County:
http://www.bellinghamherald.com/2014/12/31/4035982_county-sports-continue-to-shine.html?sp=/99/110/&rh=1