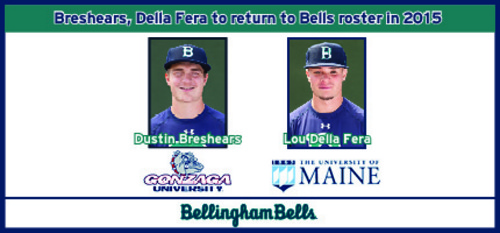 01/05/2015 8:20 AM
The Bellingham Bells are pleased to announce the return of two Bellingham Bells from the 2014 roster. Dustin Breshears and Lou Della Fera will be back in Bellingham to play with the Bells during summer 2015.
Both were key members of the 2014 Bells team that brought the West Coast League championship home to Bellingham. The 2014 team was also the recipient of the West Coast League's Jim Dietz Sportsmanship Award for the second year in a row.
"We are extremely excited that we have an opportunity to bring Lou and Dustin back to Bellingham this coming summer," Bells manager Jeff James said. "They were a big part of our team last year for not only what they did on the field, but with their work ethic and professionalism they brought every day. With another year of experience for them both, we expect them to be big contributors for us."
Breshears, a junior from Gonzaga University, will return to the infield for the Bells. In 2014, he hit .287 for the Bells with 52 hits, 9 of which were doubles. After sitting out the 2014 season for the Bulldogs due to NCAA transfer rules, Breshears will take the field for Gonzaga in spring 2015.
"Dustin did a great job both on and off the field last summer," said Bells general manager Nick Caples. "He goes about his work in a very dedicated and professional manner, which is a great example for some of the younger players to follow. He's a solid all-around player as he is very productive at the plate, on the base paths, and in the field."
Della Fera, a sophomore outfielder from the University of Maine, is originally from Colts Neck, N.J. In 2014 with the Bells, Della Fera had 32 hits and scored 23 runs. As a freshman at Maine during the 2014 season, Della Fera saw action in 19 games, hitting .286 with five runs scored.
"Lou quickly became a fan favorite in 2014 as it didn't take Bells fans very long to appreciate Lou's intensity and hustle on the diamond," Caples said. "He has a great eye at the plate which allows him to get on base at a very high rate. Once he's on, he's always a threat to make something happen. He's a terrific young man and we're happy to have him back this summer!"