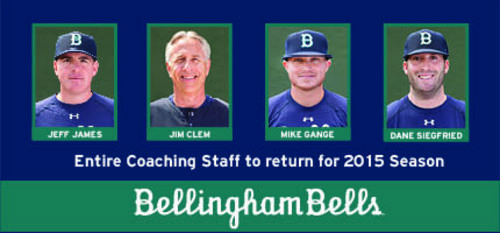 10/08/2014 8:50 AM
The Bellingham Bells will return their entire coaching staff for the 2015 season, the team announced today.
Manager Jeff James, who led the Bells to the West Coast League championship in his inaugural season with the Bells in 2014, will enter his second season with the Bells. James was named the West Coast League's Manager of the Year for the 2014 season. The team was also honored with the Jim Dietz Sportsmanship Award under his watch.
Pitching Coach and Recruiting Coordinator Jim Clem, who handles a majority of player recruiting in addition to his duties as pitching coach, will return for his fifth season with the Bells.
Assistant Coaches Mike Gange and Dane Siegfried will round out the coaching staff, both returning for their second season on the Bells coaching staff.
"We are proud to keep our coaching staff intact for the 2015 season," general manager Nick Caples said. "This past summer was special for many reasons, and what we are most proud of is earning the Jim Dietz Sportsmanship Award. The way our players conducted themselves on and off the field was a direct reflection of the leadership our coaches provided."
"The coaching staff created a positive culture within the clubhouse where players were comfortable learning and growing, and that translated to success on the field," Caples continued. "We had a team full of guys that improved their skills throughout the summer and were really supporting one another on a nightly basis."