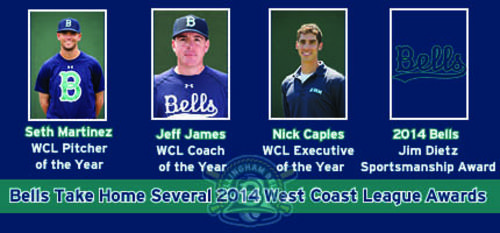 08/26/2014 3:16 PM
To cap off a season that included their first ever West Coast League Championship, the Bellingham Bells have been awarded a variety of 2014 league honors, which were announced by WCL president Dennis Koho today.
Arizona State's Seth Martinez was named the West Coast League Pitcher of the Year, following a 6-0 season in which he posted a league-low ERA of 2.07. During the spring, Martinez went 5-0 for the Sun Devils, finishing the end of his freshman collegiate campaign with 11 victories and no defeats.
"Seth is a tremendous talent," said Bells general manager Nick Caples. "He is a true competitor on the mound and was a large part of our success this year. He has a bright future ahead of him."
First-year manager Jeff James was named West Coast League Coach of the Year, after leading the Bells to their first West Coast League championship in a season that included 41 wins and a 14-game win streak. The Bells were also awarded the Jim Dietz Sportsmanship Award for the second consecutive year, an award voted on by other West Coast League coaches and front office members to recognize the team which best exemplifies the ideals of sportsmanship on the diamond.
Bells general manager Nick Caples was awarded WCL Executive of the Year, his second such honor in the past three years. Caples lead the Bells to a record-high regular season average attendance of 1,331 fans, and drew 7,939 fans for three home playoff games in August.
The following Bells were also named to the All-West Coast League Conference Teams:
First Team All-West Coast League
David Bigelow, Relief Pitcher, Gonzaga University
Eder Erives, Starting Pitcher, Arizona State University
Seth Martinez, Starting Pitcher, Arizona State University
Second Team All-West Coast League:
Zach Johnson, Starting Pitcher, Central Washington University
Danny Miller, Outfielder, Chico State University
Aaron Sandefur, Starting Pitcher, University of Pittsburgh
Honorable Mention All League:
Dallas Carroll, Third Baseman, University of Utah
Scott Heath, First Baseman/Relief Pitcher, University of Maine
Dan Ludwig, Relief Pitcher, Belmont University
Eric Webber, Catcher, Georgetown University
"This team had no shortage of talent," said Caples. "All of the recognized players are certainly well-deserving of this recognition. 2014 was a special season and we are very proud of the entire squad for their accomplishments."