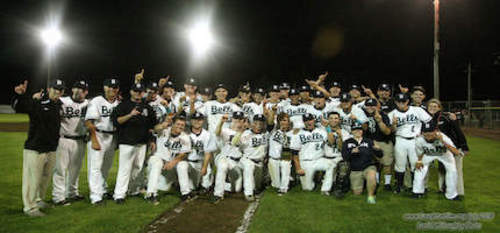 08/20/2014 9:10 AM
In a game that was representative of the entire series and the quality of the two teams, the Bellingham Bells edged out the Corvallis Knights 3-2 to win their first ever West Coast League Championship on Monday night.
"Every game we seem to be in a dog fight because there are so many good teams in this league, including Corvallis, who is a heck of a team," manager Jeff James said. "Winning like this shows the heart and fight of these guys, they just keep believing in it."
In front of 2,821 fans, the Bells went up early, scoring three runs in the bottom of the third. After reaching on a single, shortstop Chris Baker scored off a Lou Della Fera single that resulted in an error by the right fielder. Della Fera then scored as a result of a wild pitch to Dallas Carroll, who then hit a single to drive in Dustin Breshears.
The Knights added 2 in the top of the fourth, and neither team would go on to score again in the tight 3-2 contest.
"You just have to take advantage of what's given to you," said Bells assistant coach Mike Gange. "And it's just like we've said all summer, you have to get comfortable in one run games, and that's what we did tonight."
Starting Pitcher Gabe Cramer went 3.2 innings, with 3 hits and 2 earned runs. He was replaced by Mo Ceja, who was credited with the win after 1.1 innings of work and no earned runs.
With a 3-2 lead in the top of the ninth, closer David Bigelow entered the game. After a single from Corvallis' Logan Ice, the Bells collected three outs to end the game and capture the West Coast League Championship, giving Bigelow his 14th save of the season.
The win gives the Bellingham Bells their first ever West Coast League Championship. The Bells reached the title series in 2005, but fell to the Wenatchee AppleSox.
"They (the players) stuck with us, believed in it all season long and came to play every single day," said James. "I'm so proud of them and so thankful for the community support and for all of the fans we got out here. They really rallied behind us."
"(The fans) are such a big part of it," assistant coach Mike Gange said. "They truly bring a lot of energy to our players and really motivate them to keep going. The way our fans stayed in this game—and each and every game—is something amazing."