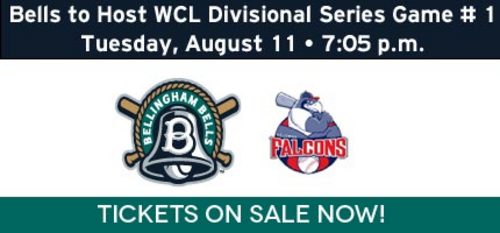 08/14/2014 11:55 AM
The Bellingham Bells are excited to announce that after defeating the Yakima Valley Pippins in the West Coast League Division Series, the Bells have advanced to the West Coast League Championship Series and will host Game Two of the series at Joe Martin Field on Sunday, August 17 at 7:05 p.m. Tickets are now on sale.
The West Coast League Championship Series is a best of three game series. The Bells will travel to face the Corvallis Knights in the opening game of the series on Friday, August 15, and then return to Joe Martin Field to host games on Sunday, August 17 and Monday, August 18 (if necessary).
The Bells had planned to play the entire Championship Series on the road, due to a field project set to begin at Joe Martin Field on August 15. However, thanks to assistance from the City of Bellingham, the project start date has been pushed back to accommodate the Championship Series to be held at Joe Martin Field.
"Thanks to the tremendous efforts and assistance from James King, Greg Hatch and the entire team at the Parks & Recreation Department, we are excited to announce we will be able to host games in the Championship Series," Bells general manager Nick Caples said. "This is really exciting news for our team, fans and the entire Whatcom County community. We are very grateful to the City of Bellingham for the opportunity."
Fans who wish to purchase playoff tickets may do so by visiting or by calling the Bells office at 360-527-1035. Inventory is limited for this game and tickets will be limited to the first 3,000 sold.
In an effort to provide a great fan experience and a memorable night at the ballpark for all, please take note of the following details for the home playoff game:
TICKETS
Only 3,000 tickets will be available. They can be purchased online at http://be1.glitnirticketing.com/beticket/ or by calling the Bells Ticket Office at 360-527-1035.
The Bells are expecting a large crowd that night, therefore to avoid any long lines, it is best to purchase your ticket early, and pick it up prior to game day.
STADIUM INFORMATION
Gates will open at 5:00 p.m. Please arrive early to ensure entry into the ballpark for the beginning of the game.
For more information or questions about the WCL Division Series Playoff Game at Joe Martin Field, please call the Bells Front Office at 360-527-1035.