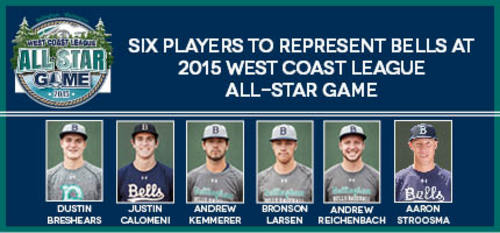 07/15/2014 10:33 AM
Seven players will represent the Bellingham Bells at the 2014 West Coast League All Star Game, the league announced today.
Bells David Bigelow, Scott Heath, Zach Johnson, Dan Ludwig, Seth Martinez, Danny Miller and Aaron Sandefur will join the WCL North Team at the 2014 All Star Game, hosted by the Klamath Falls Gems. The All Star Game and Home Run Derby will take place on Monday, July 21 at Kiger Stadium in Klamath Falls, OR.
The North Team will also consist of all-star selections from the Kelowna Falcons, Victoria HarbourCats, Walla Walla Sweets, Wenatchee AppleSox and Yakima Valley Pippins.
Two infielders will represent the Bells in Klamath Falls: University of Maine's Scott Heath and Chico State University's Danny Miller.
Heath, who plays first base, has been a large contributor to the Bells offense, leading the team in hits, runs, and RBIs. Heath is currently hitting .360 on the season with 41 hits, 23 runs, 26 RBIs and 3 home runs. Also excellent in the field, Heath has yet to make a fielding error during the 2014 season.
Miller, an outfielder, has proved himself to be a power hitter early in the season, with a .362 batting average. Miller has four home runs on the season, including one grand slam.
With a combined team ERA of 2.90, the Bells have a deep and talented pitching staff. Five members of that staff will represent the Bells in Klamath Falls: Gonzaga University's David Bigelow, Edmonds Community College's Zach Johnson, Belmont University's Dan Ludwig, Arizona State University's Seth Martinez and Bellevue College's Aaron Sandefur.
Bigelow, a right-handed pitcher for the Bells, has been outstanding in late inning relief during the 2014 season. With a team second-best .76 ERA, Bigelow has been credited with six saves and has 23 strikeouts on the season.
Johnson, a left-handed pitcher, has pitched 23 innings in the 2014 season, racking up 26 strikeouts and a 2-1 record. Johnson's 1.50 ERA is the lowest amongst Bells pitchers in the starting rotation.
Ludwig, a left-handed reliever, is 4-0 for the Bells in 2014 with a 1.37 ERA. In 19.2 innings pitched, Ludwig has 28 strikeouts. Opponents are hitting an average of .187 against him during summer 2014.
Right-handed pitcher Seth Martinez has been a force on the mound in 2014. In 6 starts, opponents are hitting an average .139 against Martinez, who is 3-0 and has racked up 28 strikeouts on the season.
Sandefur, who is tied for most wins on the Bells squad at 4-1, has been rock solid on the mound for the Bells in 2014. He leads the team in strikeouts (40), innings pitched (39) and has the second lowest ERA of any Bells starter at 2.30. In his last three outings, Sandefur has pitched over 7 innings and given up no more than 4 hits.
The 2014 West Coast League All Star Game will take place in Klamath Falls, OR on Monday, July 21, 2014. For more information, visit www.wclallstarevents.com.