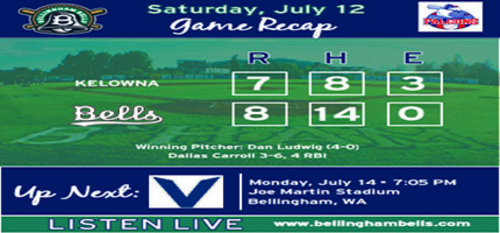 07/12/2014 9:36 PM
The Bells overcame stifling temperatures tonight in Kelowna to outlast the Falcons 8-7, earning the series sweep.
Starting Pitcher Gabe Cramer went 5.2 innings with 7 strikeouts. LHP Dan Ludwig then earned the win with 2.1 innings of work with no runs, no hits and 4 strikeouts.
Bellingham put together a team effort offensively, with 8 of 9 players in the lineup putting up at least one hit. Dallas Carroll added a surge offensively, going 3 for 6 with 4 RBI.
The Bells will return to Joe Martin Field on Monday to face the Victoria HarbourCats. First pitch is at 7:05 p.m.