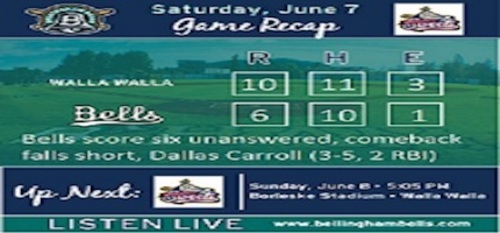 06/07/2014 11:02 PM
The Sweets, burned in their 2014 home opener on Friday night by the Bells, came out swinging in the first four innings and built a sizable lead early. But Bellingham would not go away- collecting 10 more hits after they tallied 14 on Friday night. At one point, Walla Walla had a firm grasp of the scoreboard until Bellingham's Dallas Carroll (University of Utah) drove in two runs with a two-out single to put the Bells on the board for the first time. Carroll finished the night with three singles and the Bells would add one run in the seventh and three in the eighth to cut the deficit to 10-6 through eight innings.
"The scary part is that he's coming back from an injury- and getting healthier every day. He is a very good hitter who fits well in our lineup," said Bells assistant coach Mike Gange of Carroll.
Brad Monson (Everett College) started for Bellingham and lasted only two innings, allowing nine runs- all earned- with five walks and three strikeouts. He was hit hard early by Walla Walla, who sent eight hitters to the plate in each of the first three innings. RBI singles by Kyle Nixon (University of San Francisco) and Ryan Littlefield (University of Portland) and a two-run single by Jordan Frabasilio (University of Pittsburgh) gave the Sweets the early advantage. Littlefield finished with three hits and four RBI, while Parker Osborne (Southern Illinois) added two hits and three runs scored.
Jesse Houser spun 5 1/3 innings, giving up just two runs with four walks and six strikeouts for Walla Walla. He picked up his first win of the 2014 summer season. Bellingham was able to string together momentum against the Sweets bullpen and at one point had the tying run in the on deck circle in the eighth inning. A throwing error by Sweets shortstop Frabasilio gave the Bells runners at second and third with two outs, but Walla Walla reliever Jay Flaa (North Dakota State) struck out Nate Anderson (Bellevue) to end the threat.
"We never gave up. Our guys really did a nice job of gainnig some momentum late and capitalizing on it," Gange replied. "We can score a lot of runs. This group is only getting better."
Bellingham received a solid performance from John Albert (Hawaii Pacific) who tossed three innings of scoreless relief with two strikeouts. David Bigelow (Gonzaga), pitching for the second time in as many nights, struck out two in a perfect eighth inning for the Bells.
"This team showed a lot tonight. Coming back from a big deficit only gives us momentum moving forward," said Albert.
Walla Walla committed three more errors in the victory, giving them seven through the first two games of the series. Bellingham stole another base (Anderson) and now has six thefts in two games. The Bells have scored 17 runs, while the Sweets have collected 13 through two games. Walla Walla took four of six from Bellingham last summer and the Bells haven't beaten the Sweets in a season series since July 5-7, 2011.
"Coming back the way we did tonight only gives us confidence heading into tomorrow's series finale," Gange added. "It was really special to see these guys come back the way they did tonight."
Bellingham and Walla Walla wrap up the three game series on Sunday night at Borleske Stadium with first pitch set for 5:05pm PDT.