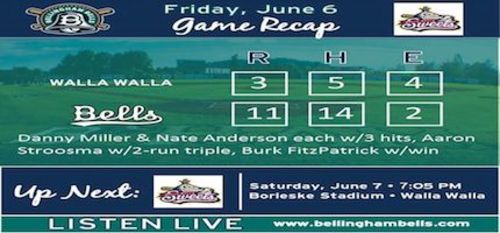 06/06/2014 11:38 PM
It took a five-run fourth inning to put away Walla Walla in their home opener tonight, as Bellingham got a key two-run triple by Aaron Stroosma (Bellevue College) in the fourth to break open a close game. Nate Anderson (Bellevue College) started the scoring for the Bells with a two-run double in the second inning. Andrew Mendendall (Lewis-Clark State College) then tied the contest for the Sweets with a two-run home run in the third, and that's when the Bells offense took over. Nine unanswered runs- several keyed by Walla Walla errors, provided the Bells with extra padding against a well-rounded Sweets team. Walla Walla committed four errors and Bellingham stole five bases, including two apiece from Ian Yetsko (Oakland University) and Stroosma.
"I just got a pitch to hit. I was looking for a pitch to drive and I got it," said Stroosma, when asked about his two-run triple that changed the momentum of the game for good.
Aaron Sandefur (Bellevue College), who pitched for Bellingham last summer, got the start and tossed four innings of two-run (both unearned) baseball with three strikeouts. The Bells received a tremendous performance from relievers Burk FitzPatrick (University of Maine) and Ryan McMonigle (Concordia University), who combined for four hitless innings with eight strikeouts. FitzPatrick picked up the victory in relief for his first win of the season.
"I thought we did some things really well tonight. It's a great way to start the season," pitching coach Jim Clem said on the post-game interview.
Eight of the nine position starters collected at least one hit for the Bells, with Stroosma scoring twice and Anderson three times. Walla Walla was limited to five hits and committed costly miscues that opened the door to three unearned runs. In total, Bellingham struck out 12 Sweets hitters with a dazzling variety of arms from the bullpen, including FitzPatrick, who struck out the side in the fifth. McMonigle struck out two hitters apiece in both the seventh and eighth innings.
"Our bullpen pitched great. They came up big for us when we really needed them," replied Clem.
Conner O'Neil (Central Arizona College) allowed eight hits and seven earned runs, striking out five and walking four in defeat. Walla Walla had no answer for the Bells offensive rally, as the Sweets managed only one run after Mendenhall's blast in the third.
"Tomorrow is another day. But tonight, we came out and played well. It's always nice to get that opening day win," added Clem.
The second game of the three-game series between the Bells and Sweets is tomorrow night at Borleske Stadium in Walla Walla. First pitch is set for 7:05pm.