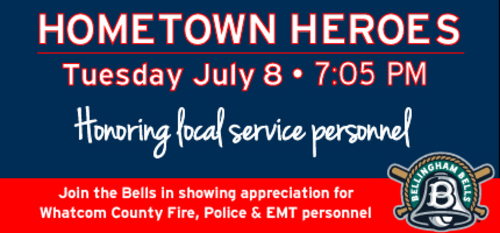 05/28/2014 1:21 PM
The Bellingham Bells have announced plans to honor Whatcom County emergency services personnel during a "Hometown Heroes" celebration on Tuesday, July 8.
As part of the "Hometown Heroes" celebration, the Bells and the Whatcom County community will pay tribute and show appreciation for all local police, fire and EMT personnel throughout the night as the Bells take on the Kitsap BlueJackets.
"We are extremely grateful to all of our local service personnel and all that they do to keep our community safe," said Bells general manager Nick Caples. "July 8th will be a special night at the ballpark and we are excited to have the opportunity to honor and show our sincere appreciation for all of our Whatcom County hometown heroes."
First pitch for "Hometown Heroes" night will be at 7:05 p.m. and gates will open at 6 p.m.