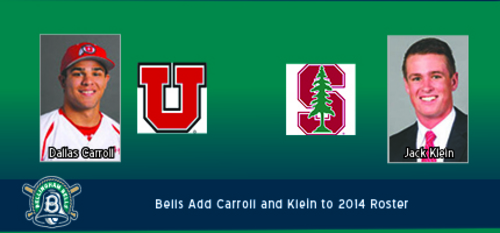 05/11/2014 7:27 AM
The Bellingham Bells are pleased to announce that infielder Dallas Carroll and outfielder Jack Klein have been added to the 2014 roster.
Carroll, a six-foot-tall infielder from Salt Lake City, Utah, is currently a sophomore at the University of Utah. A graduate of Taylorsville High School, he was a two-time All-State honoree and hit .412 with 12 doubles as a senior. Last season with the Utes, Carroll made 28 starts at third base as a true freshman and hit .282 with 12 RBI. He also stole seven bases and was named Utah's first-ever Pac-12 Player of the Week during the week of March 26, 2013.
"Dallas is a very promising young player that we are really fortunate to have on the Bells this summer," Bells general manager Nick Caples explained. "We are really looking forward to seeing what he's capable of."
Klein, a six-foot-two-inch outfielder from San Francisco, Calif., is currently a freshman at Stanford University. The graduate of St. Ignatius College Prep was drafted by the Atlanta Braves in the 32nd round of the 2013 MLB Amateur Draft and chose to attend Stanford in lieu of going pro. In his rookie season for the Cardinal, Klein leads the team in on-base percentage and is 2 for 3 in stolen base attempts.
"Jack is an outstanding athlete who has all the tools necessary to be a great player," Caples said. "He's a stolen base threat every time he reaches and currently leads the Cardinal in on-base percentage. Bells fans will love watching Jack play this summer!"