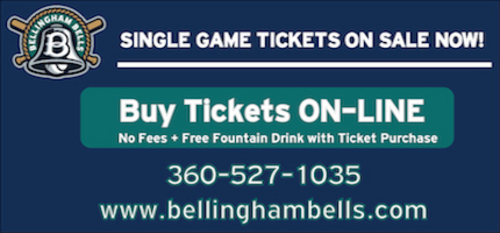 05/09/2014 3:30 PM
Single game tickets for the 2014 Bellingham Bells Season will officially go on sale Friday, May 9, the team announced today. May 9 is exactly one month before the team's June 9 home opener vs. Klamath Falls, which will take place at 7:05 p.m.
New in 2014, all online ticket purchases will be free of processing fees, and will include a complimentary soft drink, courtesy of the Bells. Tickets purchased online can be conveniently printed at home or picked up at will call on the day of the game.
"We want the ticket purchasing experience to be as convenient as possible for our fans," Bells general manager Nick Caples said. "We are always trying to find ways to enhance all aspects of the fan experience, and improving the online ticket buying process is just another way we can do that. We hope our fans enjoy the added convenience and value that will come from online ticket purchases this year."
The 2014 Bells season will feature a variety of exciting promotions, theme nights, and giveaways planned. New for 2014 are two weekly promotions, " Mom Day" Mondays and "Salute to Armed Forces" Wednesdays.
In addition to new promotions, several popular promotions from 2013 will return for the 2014 season, including:
· Two Dollar Tuesdays
· Family Fun Day Sunday
· Three unique giveaways
· Three terrific post-game fireworks shows
For more information on the above promotions, visit our full promotional schedule here.