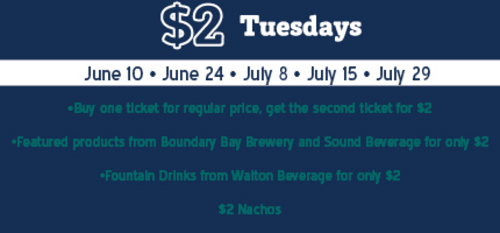 04/23/2014 8:41 AM
The Bellingham Bells have announced the return of "Two Dollar Tuesdays," a fan favorite promotion from 2013. Tuesdays will continue to be a fantastic value at the ballpark for fans, as the Bells will continue to offer $2 food, beverage and ticket options for all five Tuesday home games during the 2014 season.
"In 2013, our Two Dollar Tuesday promotion was a big hit with our fans," said Bells general manager Nick Caples. "Our average attendance on Tuesday nights last season was 2,146, making it the highest attended night of the week."
On all Two Dollar Tuesdays, when fans purchase one ticket at full price, they can buy their second ticket for $2. In addition, select concession items will be priced at $2 including:
Fountain drinks from Walton Beverage
Featured product from Boundary Bay Brewery
Featured product from Sound Beverage
Nachos
The Two Dollar Tuesday promotion will run during all five Tuesday games this summer: June 10, June 24, July 8, July 15 and July 29. First pitch for each game will be at 7:05 p.m.