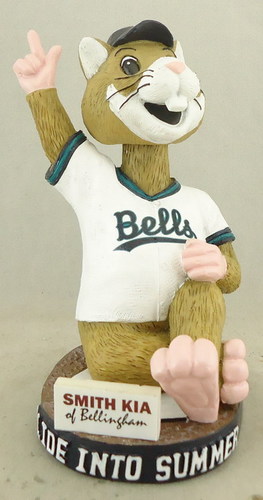 04/14/2014 12:56 PM
The Bellingham Bells have partnered with Smith Kia to present the first bobblehead giveaway of the 2014 season on Saturday, June 28.
The bobblehead giveaway will feature Dinger, the Bells' mascot, sliding into home plate to set the stage for the "Slide into Summer" theme night. Throughout the night, the Bells and Smith Kia will celebrate the beginning of summer with fun promotions, and fans are encouraged to wear their favorite summer attire.
"June 28 is going to be a really fun night at the ballpark," said Bells' general manager Nick Caples. "Smith Kia has been a terrific sponsor and we are all excited to provide this unique bobblehead giveaway to our fans as a token of our appreciation. It will be a fun way to celebrate summer and we know that our fans will really love being able to add this special bobblehead to their collection!"
Supplies are limited; bobbleheads will be given to the first 750 fans to enter the gates. To ensure receiving a giveaway, fans are encouraged to arrive early: gates open at 6 p.m. with first pitch scheduled for 7:05 p.m. against the Kelowna Falcons.
For more information about the 2014 Bellingham Bells season and to stay updated on the 2014 promotional schedule, please visit www.bellinghambells.com.