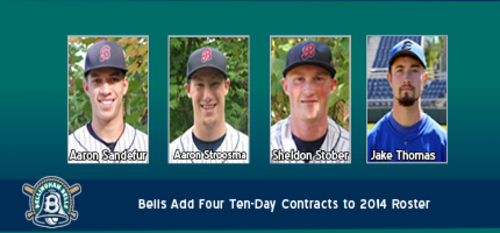 04/07/2014 7:04 AM
The Bellingham Bells have completed the 2014 roster with the addition of four ten-day contract players. Bellevue College's Aaron Sandefur, Sheldon Stober and Aaron Stroosma will join the team on ten-day contracts this summer, along with Everett Community College's Jake Thomas.
"We have had our eyes on these particular players for a while," said Bells pitching coach and recruiting coordinator Jim Clem. "They are all quality players and we believe each one of them could make the difference in our early season success."
Because players have differing academic schedules and arrive in Bellingham at different times in June, it is customary for teams throughout the West Coast League to sign groups of temporary players to fill out the roster in the early part of the season. The Bells retain the option to keep any of these players after their ten-day contracts expire.
"A couple of good examples of 10 day players making big contributions to our team early on and then being offered a full-time contract are Aaron Sandefur and Nate Anderson," Clem said. "Both are examples of someone who made the most of their opportunity, turning a 10-day roster spot into a full-time one."
"Regardless of whether or not the 10-day players make the roster full-time, while they are here, they are a very important part of our team," Clem said. "I can't begin to tell you how excited we are about this group of players."
About the Players:
Aaron Sandefur, Bellevue College: A six-foot-three-inch sophomore pitcher/infielder from Bellevue, Wash. Hit .308 in 2012 for Bellevue College. Played for the Bells in 2013 as a ten-day contract player and was retained for entire season, finishing the season 3-2 on the mound with 43 strikeouts.
Sheldon Stober, Bellevue College: Five-foot-ten sophomore middle infielder from Kent, Wash. Hit .400 in league play during the 2013 season, earning All-North Region designated hitter award. Ended the season with a .322 batting average with 25 RBI. Has signed a National Letter of Intent to play with Seattle University in 2015.
Aaron Stroosma, Bellevue College: A six-foot-three-inch sophomore outfielder from Mount Vernon, Wash. Made NWAACC All-Tournament Team in 2013. Named one of Perfect Game's Top 100 Junior College prospects for 2013.
Jake Thomas, Everett Community College: A 6'2" sophomore from Marysville, Wash. Thomas had a good freshman year for Everett Community College in 2012 as he went 4-1 on the mound in 6 starts with a 1.85 ERA in 34 innings pitched. He redshirted in 2013, and currently has 2 starts under his belt in 2014.