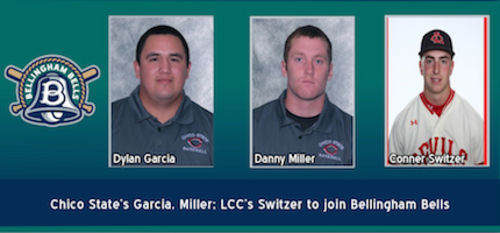 03/31/2014 8:23 AM
Chico State University's Dylan Garcia and Danny Miller and Lower Columbia College's Conner Switzer have been added to the Bellingham Bells roster for summer 2014.
Dylan Garcia, a 5-foot-10 inch third baseman from El Cajon, Calif., is a junior at Chico State. A transfer from Grossmont Community College, 2014 will be Garcia's first season with the Wildcats. While at Grossmont, Garcia finished the season with a .399 batting average and was named to the Pacific Coast Athletic Conference First Team selection. As a senior at Granite Hills High School, he earned honors for All-East County First Team, All-League First Team and Team MVP.
"Dylan is a kid who really knows how to hit," said Bells general manager Nick Caples. "He makes a lot of contact and is always putting the ball in play, which will give Coach James and our offense a lot of options in game situations."
Danny Miller is a 6-foot junior outfielder from San Jose, Calif. Miller comes from Mission Community College, where he played in 2012 and 2013. While at Mission in 2013, Miller batted .290 in 36 games and drove in a league-high 34 runs on the season. While at Santa Teresa High School, he helped lead his team to a league title in 2009 and earned First Team All-League accolades in 2011.
"Danny is a renaissance man on thet baseball field as he can do a little bit of everything," Caples said. "He is a good hitter with some pop, has a great eye to frequently get on base, and plays a number of different positions defensively. One thing we know for sure about these Chico State players is that they come ready to play. They're tough as nails and prepare themselves to compete every single day during the summer."
Conner Switzer, a 5-foot-11 inch catcher from Belgrade, Mont., is a freshman at Lower Columbia College. While at Belgrade High School, Switzer made the 2012 All-State team and was named to the All-Conference team as a catcher. He was a three-year team captain and named team MVP in 2012 and 2013.
"Conner continues to turn heads everywhere he goes," Caples said. "He has done a great job this spring holding his own as a freshman at Lower Columbia. We've noticed he has a knack for stepping up to the challenge and making the most of every opportunity. Those are exactly the kind of guys we look for!"