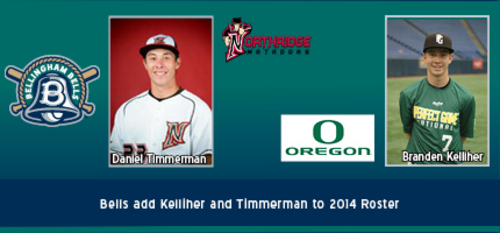 03/17/2014 3:37 PM
The Bellingham Bells are pleased to announce that right-handed pitcher Branden Kelliher and outfielder Daniel Timmerman have been added to the 2014 roster.
Kelliher, a 5'11" right-handed pitcher from Lake Stevens, Wash., is a senior at Lake Stevens High School. Ranked the #1 high school prospect in Washington by Perfect Game in 2014, Kelliher is also Perfect Game's 39th nationally ranked right-handed pitcher. As a junior in 2013, he was named to the WESCO 4A All-League 1st team as a pitcher. Kelliher has signed a letter of intent to play baseball for the University of Oregon and will enroll at Oregon in fall 2014.
"Branden is a very decorated high school pitcher," pitching coach Jim Clem said. "He has pitched on some of the country's biggest stages for high school players and has excelled. We are looking forward to Branden wearing a Bells uniform this summer and making the jump from high school baseball to the college ranks. He should be an exciting player to watch!"
Timmerman, a 6'1" outfielder from Torrance, Calif., is currently a junior at Cal State Northridge. A transfer from El Camino College, Timmerman will play his first season for the Matadors in 2014. In 2013 at El Camino, Timmerman had a .371 batting average and was named Team MVP, earning a spot on the All-South Coast League First Team.
"We expect that Daniel will bring some maturity to the Bells clubhouse," Clem said. "He has had two very successful years at El Camino College prior to attending Cal State Northridge. He is known as a solid outfielder who can really run and has a strong arm too!"