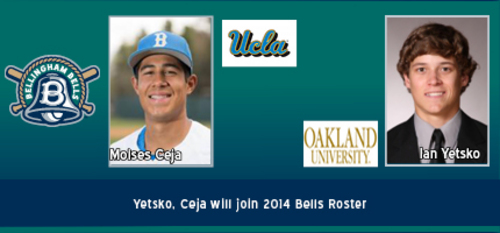 03/10/2014 8:20 AM
The Bellingham Bells have added two more players to the 2014 roster. Oakland University's Ian Yetsko and UCLA's Moises Ceja will join the team for summer 2014.
Yetsko, a 5'9" utility player from Dewitt, Mich., is a sophomore at Oakland University in Rochester, Mich. At Dewitt High School, Yetsko was a three-year baseball letterman and a four time all-league and all-district selection. As a freshman at Oakland University in 2012, Yetsko saw action in 29 games and batted .316 overall, driving in 14 runs and scoring 7 times. After redshirting the 2013 season, Yetsko will play his sophomore season for the Golden Grizzlies in 2014.
"We expect Ian will help the Bells in many different ways," pitching coach Jim Clem said. "He is valuable because he is so versatile. He has many talents, some of which include being able to play every position except first base and pitcher. He has very good speed and is a key player for Oakland University. We are very excited to have Ian on our team!"
Ceja, a 6'0" freshman, is a right-handed pitcher from Arleta, Calif. As a senior at Kennedy High School in 2013, he had a 6-1 record with a .66 ERA in 64 innings pitched. In addition to throwing six complete games, Ceja also struck out 68 batters on the season. Also a strong asset at the plate, in 2013 Ceja hit .444 in 45 at bats. He was named to the 2013 All-Valley Mission League and Los Angeles All-City teams.
"Moises is coming to us from UCLA, last year's NCAA National Champions. He is known to be a terrific person and a great competitor," Clem said. "He is a very good pitcher that has proven to be durable and is a consistent strike thrower. A very hard worker, we expect Moises to be a big contributor to the Bells this summer."