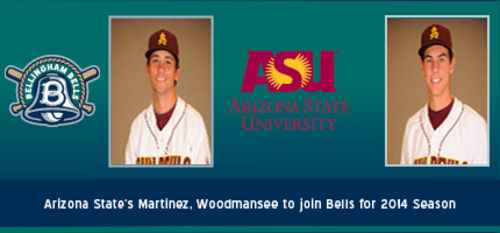 03/03/2014 8:41 AM
The Bellingham Bells are excited to announce the addition of two more Arizona State Sun Devils to the 2014 roster. Right-handed pitcher Seth Martinez and shortstop Colby Woodmansee are current ASU freshmen who will join the Bells for summer 2014.
"Seth Martinez and Colby Woodmansee are members of a highly decorated freshman class currently at ASU," pitching coach Jim Clem said. "We are excited to have them as part of the 2014 roster."
Martinez, a 6'3" freshman, is a right-handed pitcher from Peoria, Ariz. At Sunrise Mountain High School, he was a three-year baseball letterman and a two-time First Team All-District selection. As a junior in 2012, he threw a no-hitter against Thunderbird High School.
"Seth Martinez is a right handed pitcher that has been very impressive," Clem said. "He has definitely gained a reputation for his precision control. We are excited to have Seth in a Bells uniform and expect he will be a key member of the Bells pitching staff this summer."
A 6'3" freshman, Woodmansee is a shortstop from Phoenix, Ariz. As a senior at Desert Vista High School, he batted .355 with 36 RBI and eight home runs. In 2013, Woodmansee was named to the Division 1 All-Section 1st team, as well as receiving honors for Division 1 All-State Honorable Mention, Tempe All-City team, 5A State All-Star team and the 2013 American Family All-USA Arizona Team.
"Colby Woodmansee has a lot of experience playing shortstop, and has the skill to play different positions," Clem said. "Colby will be fun for fans to watch because he is the complete ball player. He will not only help us with his glove, but he is a very good offensive player as well—watch out because he has some pop in his bat!"