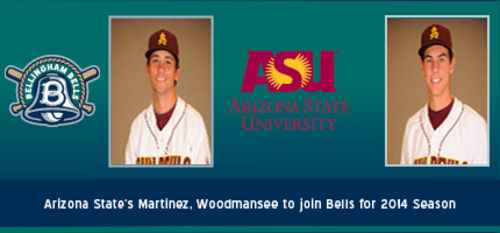 02/24/2014 7:55 AM
The Bellingham Bells have added Arizona State University right-handers Hever Bueno and Eder Erives, both freshman pitchers for the Sun Devils, to the pitching staff for summer 2014.
"ASU has landed a class of freshman that is loaded with talent," said pitching coach Jim Clem. "We are very excited to have players from that class come to Bellingham this summer to play for the Bells!"
Bueno, a 6'2" freshman from Mesa, Ariz., was selected by the New York Yankees in the 17th round of the 2013 MLB Draft, but elected to pursue his collegiate career at ASU. At Westwood High School, Erives was a four-year varsity letterman and was named City Pitcher of the Year in 2013. He also threw a complete game against rival Mesa High School in 2013.
"Hever has already had a lot of success," Clem said. "He has a very live fastball that consistently sits in the 90's, and he really knows how to pitch. He will gain valuable experience this spring at ASU and will undoubtedly be a big asset for the Bells when he arrives."

Erives is a 6'1" freshman from El Paso, Texas. At Montwood High School, he was a two-time All-State player and was named to the All-City team three times. As a senior in 2013, he recorded a .62 ERA in 67 innings pitched and threw 109 strikeouts. He also recorded a no-hitter as a freshman in 2010.
"Eder Erives is a highly decorated recruit that chose to attend ASU," Clem said. "Eder has an explosive fastball that's consistently in the 90's, and he has excellent command. We expect that Eder will be a key pitcher for the Bells this summer."