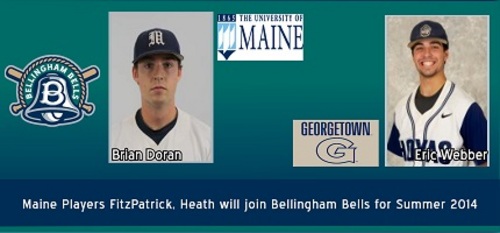 02/17/2014 5:08 PM
The Bellingham Bells are excited to announce the addition of outfielder Brian Doran and catcher Eric Webber to the 2014 roster.
Doran, a 6'3" junior at the University of Maine, is an outfielder originally from Ayr, Ontario. For the Black Bears in 2013, he hit .312 with 11 doubles, a triple and a home run. He finished the 2013 season with 32 runs scored and 23 RBI and was named to the America East Second Team.
"Brian has had a great progression over his past two years at Maine," head coach Jeff James said. "He seems to be excelling each year and we hope for him to have a big year for us in the outfield for the Bells."
A 6'0" sophomore from Stockton, Calif., Webber is a catcher for Georgetown University. In 2013, he had 29 hits and scored 24 runs with an on-base average of .333. Behind the plate, he had a .984 fielding average with only four errors on the season. In 2012, as a senior at Saint Mary's High School, he hit .333 with a .455 on-base percentage and was named to the TCAL All-League team.
"Eric will be one of our front line starters behind the plate for the Bells," James said. "He earned a lot of playing time his freshman year and after another season under his belt we expect him to be a big contributor defensively and in our line-up."