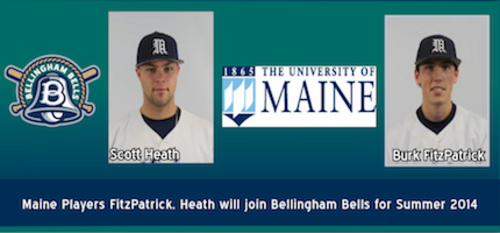 02/10/2014 11:53 AM
The Bells are excited to announce the addition of two pitchers from the University of Maine to the 2014 roster. Burk FitzPatrick and Scott Heath will join the Bells pitching staff in summer 2014.
Heath is a 6'0" junior from Westbrook, Maine. A left-handed pitcher, Heath also saw time at first base for the Black Bears in 2013 and finished the season with a team-leading 1.000 fielding percentage, with zero fielding errors in 77 attempts.
Also a big contributor to the Black Bear offense, Heath scored 20 runs with 25 RBI, nine doubles and a home run. As a freshman in 2012, Heath hit .293 with 11 doubles, two home runs and a triple and was named to the America East All-Rookie Team.
"Scott is going to be a big part of our Bellingham squad," head coach Jeff James said. "We expect him to be very good for us on the mound and in the line up from the left side at first base. I'm excited to work with him and all he'll bring to the team."
A 6'0 sophomore, FitzPatrick is a right-handed pitcher from Berwyn, Pa. For the Black Bears in 2013, he held opposing batters to a .184 batting average and struck out 15 batters in 21.2 innings. As a senior at Episcopal Academy in 2012, FitzPatrick recorded a no-hitter and finished with a 5-2 record. He received 2012 All Delaware County honors.
"We are extremely excited to have Burk on our staff," James said. "We know he'll be a big contributor for us throughout the year."