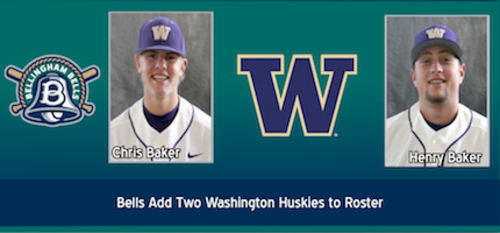 02/03/2014 8:48 AM
The Bellingham Bells announced today the addition of two more players to the 2014 roster. University of Washington infielder Chris Baker and left-handed pitcher Henry Baker will both join the Bells for summer 2014.
"I'm always excited to coach guys from my alma mater, University of Washington," head coach Jeff James said. "They are both proven winners and great competitors."
Chris Baker, currently a freshman for the Huskies, is a 6'1" middle infielder from Mountain View, Calif. As a senior at St. Francis High School in 2013, Chris led the #7 nationally ranked Lancers to a 30-4 record and the CIF-CCS championship. While tallying 33 hits, 17 RBI and 30 runs, he also led the division with a .418 batting average.
The recipient of the Lancer Golden Glove Award in 2013, Chris had a .976 fielding percentage with only 2 errors in 84 chances.
A 6'1" freshman, Henry Baker is a left-handed pitcher from Agoura, Calif. As a senior at Agoura High School in 2013, Henry led the Chargers to their second consecutive Marmonte League championship and collected honors for team MVP, second team all-conference, first team All-Ventura County, All-Area All-Star Team, and first team all-Marmonte League. With a 1.18 ERA and 93 strikeouts in 77 innings pitched, he led the league in wins, ERA and strikeouts.
"I know Henry and Chris will be hard workers," James added. "We expect them to develop greatly throughout the summer."