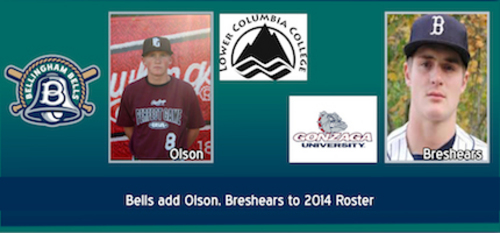 01/20/2014 11:23 AM
The Bellingham Bells have added two players to the 2014 roster. Right-handed pitcher Tanner Olson and second baseman Dustin Breshears will take the field for the Bells in summer 2014.
After playing with the Bells on a limited basis last summer, Olson rejoins the Bells for his second season in Bellingham. A 6'2" RHP from Lynden, Wash., Olson is a freshman at Lower Columbia College in Longview, Wash. As a senior at Lynden High School, Olson went 10-0 with an impressive 0.76 ERA and led the Lions to the quarterfinals of the Class AA State Tournament. Olson was named to the 2013 AA All-State Team and was also named 2013 All-Whatcom County Player of the Year.
"Tanner is a very talented pitcher, and we look forward to having him on the pitching staff this upcoming season," said Bells general manager Nick Caples. "He had an outstanding high school career that is well documented here in Whatcom County, and he is prepared to continue that success at the collegiate level."
Breshears, a 2011 graduate of Mount Si High School in North Bend, Wash., is a 6'0" junior at Gonzaga University in Spokane, Wash. A Gonzaga transfer, Breshears played in 2012 for Bellevue College and St. John's University in 2013.
While at St. John's in 2013, Breshears played in 44 games, racking up six doubles and eight RBI on the season and posting a fielding percentage of .895. In 2012, Breshears batted .371 for Bellevue College with three doubles, three triples and a home run. Posting a .404 on base percentage, he was also awarded first team All-Northern Region and first team All-NWAACC honors.
"Dustin is another player that has had a lot of success here in the Northwest," Caples added. "He plays terrific defense as a middle infielder, and has a knack for finding ways to get on base. Dustin is a great addition to the roster and we look forward to having him in Bellingham this summer."