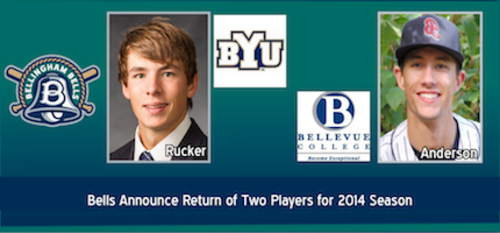 01/13/2014 12:15 PM
The Bellingham Bells are pleased to welcome back two players from the 2013 roster. Outfielder Nate Anderson and right-handed pitcher Michael Rucker will rejoin the Bells for the summer 2014 season.
Anderson, a 6'1" sophomore outfielder at Bellevue College, is originally from Bellevue, Wash. A three-year letter winner at Newport High School, Anderson posted a .318 batting average with 13 RBIs and two home runs as a senior in 2012. He also received first team All-Kingco 4A honors as a senior.
As a Bell in 2013, Anderson collected 14 hits in 21 games, with 5 of those going for extra bases. With an on base percentage of .347, he had the ability to impact games on the base paths.
"Nate is the type of player that can be a game changer," pitching coach Jim Clem said. "Because of his speed, he can really track down balls in the outfield, and offensively he can cause havoc on the bases. Nate is a really hard worker and a great teammate."
A 6'1" sophomore from Brigham Young University, Michael Rucker is a right-handed pitcher from Lake Tapps, Wash. As a freshman at Gonzaga University in 2013, Rucker had a 1-0 record with 2 saves. Due to NCAA transfer rules, Rucker will sit out the 2014 season and will play his inaugural season for BYU in 2015.
For the Bells in 2013, Rucker posted the team's fourth lowest ERA of 1.80, allowing only two earned runs in 10 innings while striking out 12.
"Michael has the ability to be one of the best pitchers in the league. His stuff can be electric," Clem said. "During the time he played for the Bells last summer, Michael did a terrific job! He is a great talent."