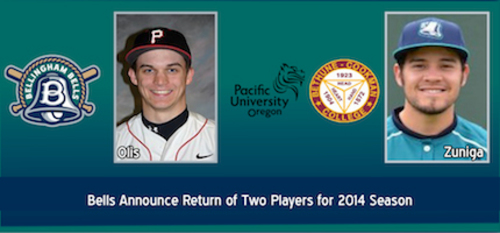 01/06/2014 2:53 PM
The Bellingham Bells are excited to announce the return of two players for the 2014 season. Pitcher Keith Zuniga, who played for the Bells in 2012, and 2013 outfielder Walker Olis will return for their second seasons with the Bells in 2014.
Keith Zuniga, a junior, is a 6'0" right-handed pitcher from Nogales, Ariz. attending Bethune-Cookman University in Daytona Beach, Fla. After transferring to Bethune-Cookman University in Fall 2013, Zuniga will play his first season for the Wildcats in 2014.
Prior to joining the Wildcats squad, Zuniga played two seasons at Pima Community College in Tucson, Ariz. Zuniga pitched 21 consecutive scoreless innings for Pima CC in 2013 and allowed just one run in 29 innings. He was named to the 2013 All-ACCAC second team and All-Region 1 second team.
In 2012, Zuniga threw 30 innings for the Bells, and posted the best ERA out of the pen, finishing with a 2.64 ERA.
"Keith is a quality pitcher and individual. As a former Bell in 2012, we know what Keith has to offer," Pitching Coach Jim Clem said. "With two more successful college seasons under his belt, I must say that we are excited to have Keith wearing a Bells uniform once again!"
Walker Olis, a 6'2" sophomore outfielder at Pacific University, is a native of Burlington, Wash. In his debut college season, Olis carried the team's second highest batting average at .335 and knocked in 27 RBIs. A strong contributor to the Boxer offense, Olis tallied 5 home runs, 7 doubles and 2 triples in the 2013 season. Olis was also the team's only outfielder to have a 1.000 fielding percentage.
"He can really play!" Clem said. "Walker is highly talented, both offensively and defensively. He had a terrific college season as a freshman last year, and played well for the Bells on a temporary basis last summer. No doubt that he is a great addition to our team."