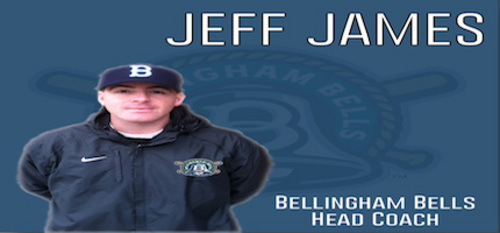 11/11/2013 1:36 PM
Update (11/13/13): Coach James was on KPUG's 1170 "The Zone" on 11/12, talking about his new role as head coach of the Bellingham Bells. To hear the interview, click here.
----
The Bellingham Bells are excited to announce the hiring of Jeff James as head coach.
James becomes the third member of the Bells coaching staff, joining pitching coach & recruiting coordinator Jim Clem and assistant coach Dane Siegfried. "This is an exciting day for the Bells! Jeff James is an outstanding coach, who is a hard worker, and a great role model. We have a lot to look forward to with Coach James joining the Bells," Clem said.
A Seattle native, James has extensive playing and coaching experience throughout the Pacific Northwest. After a successful high school baseball career at Newport High School in Bellevue, James attended California Baptist University prior to transferring to Bellevue Community College, where he was a co-captain and earned Gold Glove honors. He then finished his playing career at the University of Washington.
"I am very excited and appreciative of the opportunity given to me by Eddie [Poplawski, Bells owner], Nick [Caples, Bells general manager], and Coach Clem to be a part of the Bells family," James said. "Early on I felt their passion to give collegiate athletes and the community of Bellingham an amazing summer experience. The Bells have great people involved throughout their organization and I look forward to getting started."
James brings a great wealth of coaching skills and talents to the Bells with experience at the NCAA Division 1 level in addition to summer league baseball experience. James currently serves as the Volunteer Assistant Coach at Seattle University, where he oversees outfielders, scouting and offensive development. Previously, James has served as the Director of Baseball Operations for Seattle University, and has also held coaching roles at Everett Community College and the University of Washington.
Although this will be James' first season with the Bells, he brings valuable experience and familiarity within the West Coast League. James served as an assistant coach for the Kelowna Falcons in Summer 2010. During James' time with the Falcons, they were ranked the second best hitting team within the WCL.
"We are thrilled to have Jeff as our head coach for the 2014 season. There were two things that were very apparent from the first time we met him. First, he is a natural teacher and has a deeply seated passion for coaching and mentoring. Second, and most importantly, he conducts himself with the absolute highest level of integrity and holds some core values which are incredibly important to us. He will be a wonderful addition to our team and the community," said Caples.
Jeff and his wife Darcee reside in Seattle where they are able to stay in close contact with his father and his Grandmother, Carol James (wife of the late, Don James, legendary Head Coach for the University of Washington football program).