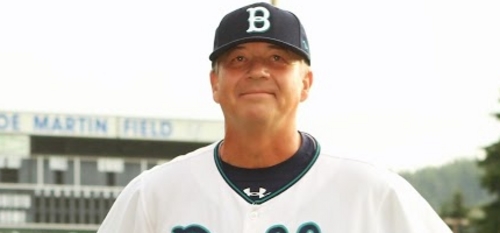 09/03/2013 4:08 PM
Gary Hatch Steps Down From Bells' Coaching Staff
After spending three years as the Bells' skipper, Gary Hatch informed the team that he will not be rejoining the club in 2014 given that he wants to concentrate on spending time with his family and pursue other personal interests during the summer months.
Throughout his time with the Bells, Gary played a key role in re-energizing the team on and off the field. The teams that he and his fellow coaches (Jim Clem and Bill Calkins) assembled were incredibly competitive and always displayed high character and a strong work ethic. As evidence of the type of play that Gary and the other coaches have encouraged, the club received the Jim Dietz Sportsmanship Award this past season; an award that is voted upon by all of the coaches in the League.
"I have thoroughly enjoyed my relationship with team owners, Kim and Eddie Poplawski, General Manager Nick Caples and his outstanding crew, the incredible coaching staff including Jim Clem, Bill Calkins, Jacob Clem, Damon Lessler and Gabe Memmert. And what a great job Ryder Cunningham and Dane Siegfried have done along with the super supportive sponsors we have had come on board," commented Hatch.
Besides serving as a great teacher, coach and mentor for Bells' players, Gary also worked closely with Nick Caples and Eddie Poplawski to support all of the initiatives and efforts that were undertaken to firmly integrate the team into the fabric of the community. Gary strongly believed in the Bells' mission of creating a special platform for families, friends, neighbors, classmates and business colleagues to spend quality time together at the ballpark building lifetime memories. Moreover, he helped drive this mission through his positive energy and boundless enthusiasm.
"Gary is a true icon in Bellingham and our organization has been extremely blessed to have locked arms with him for the past three years. Gary has helped us build the Bells into a premier franchise in the West Coast League and, more importantly, he has inspired all of us to continue to chase our dreams on and off the field. While we will miss seeing Gary in a Bells' uniform, he will always be part of our team. It is a privilege to call Gary a great friend" said team owner, Eddie Poplawski.
Moving forward, Jim Clem and Bill Calkins will continue to lead the Bells on the coaching front and will work closely with Nick Caples and Eddie Poplawski throughout the off-season to recruit and assemble the rest of the staff and the 2014 team.
"To the ball players and fans, a tall high-five for the enthusiasm, energy, effort, enjoyment, encouragement, empowerment and execution you have brought to Joe Martin Field" remarked Gary. "With your involvement the Bellingham Bells have become a premier and respected organization in the West Coast League. I salute you and know that the future is bright for Bellingham to become one of the most extraordinary summer collegiate baseball cities in the USA."